Independently Owned, Committed to Excellence
Office Furniture Installation & Reconfiguration throughout the Southeastern United States
About Us
Founded in 1997, Office Innovations has installed hundreds of products and tens of thousands of workstations, providing office space solutions to business communities of the Southeastern United States. Our objective is to deliver and install the best products at the best prices in ways that will exceed our customers' expectations.
Design

At Office Innovations we believe that understanding the needs of the space and the client is critical to the success of the design and installation. We take time to listen so we may advise our clients as to what would be the best solution for their unique situation.

Trusted Teams

Our teams of full-time, carefully screened, professionally trained installers get the job done right the first time.

Regional Presence

Operating throughout Florida and the Southeastern United States, we have the resources to deliver, assemble, or reconfigure office spaces to provide maximum functionality while maintaining design aesthetics.
Services
Installation
Expert installation services for all modular commercial office furniture systems. Installation of industrial & commercial shelving, track-mounted mobile-filing, rotary-filing, & high-density data storage systems. Installation of concrete-mounted auditorium seating, mounted tables, and AV equipment. Assembly of modular desk systems, lockers, computer furniture, lab furniture, and corrections & institutional furniture product lines.
Delivery
Dedicated, scheduled case-good deliveries and appointment-based white glove delivery services. We have a fully-insured fleet of office furniture configured cargo vehicles for seamless transportation of furniture to your customers. Drivers are professional and detail-oriented and completion of paperwork is a priority. Deliveries include set-up, wipe-down, as well as debris removal and disposal.
Assembly
Furniture assembly services for all office furniture products up-to and including RTA furniture. Our expert assemblers are trained to function-test and quality-check completed products so that the final delivery will be smooth and trouble-free. Whenever possible, we pre-assemble and inspect items before delivery to limit damages and eliminate surprises that can delay completing a project.
Reconfiguration
Reconfiguration services tailored to your needs and specifications. Office furniture needs to be changed to meet the demands of changing business requirements. Our experienced installers can be a huge advantage to achieving a successful outcome when implementing these changes. Our result-driven projects managers are flexible and will work with you for the desired outcome. Our reconfiguration crews will endeavor to work around issues and get your customer back to work in their newly changed office on-time every-time.
Refurbishing
Sometimes you don't need to replace furniture, you just need to refurbish it. We have the knowledge and experience to give your furniture a new lease on life.
Warranty Repairs
Warranty work and warranty repairs are normally only a function of commercial office furniture dealers. Office Innovations, Inc handles warranty services for all product lines that we install. We do chair repairs, lock-adjustment, parts replacement, and manufacturer defect corrections. Documentation is always provided to facilitate warranty repairs as required.
Upholstery Cleaning
Steam-cleaning of upholstered panels, upholstered products, and office seating. Sometimes a good cleaning can do wonders for older inventory. We provide cleaning services based around your needs to complete the job with minimal disruption to your customers.
Warehousing
Fully-insured warehouse for short-term staging needs and long-term storage requirements. Many projects are comprised of multi-vendor orders eliminating the option to drop-ship direct to the customer. Our warehouse receiving services include freight inspection, product count verification, and arrival notifications. We also provide long-term solutions for excess inventory of furniture to be used at a later date or as needs change.
Asset Management
Asset-management and inventory-management services. Office Innovations, Inc. can conduct a thorough furniture inventory and track furniture stocks for larger customers who make frequent furniture changes. Inventory management can convert a surplus inventory of unused parts into huge savings on your next installation or reconfiguration. Accurately knowing what you have on-hand can save a reconfiguration or expansion plan from a budget cutback.
Office Moves and Relocation Services
Office moves and relocation services for commercial offices. Office Innovations, Inc can facilitate office moves for most small and mid-size offices. Whether you're moving locally or across the State, Office Innovations is perfectly suited for the task. Since commercial office moves often involve office cubicles, Office Innovations is the ideal partner and solution for a worry-free relocation. Using an office furniture installer for workstation moves will protect product warranties and eliminate "mover" mistakes that can prevent an office from getting back to work.
All Our Services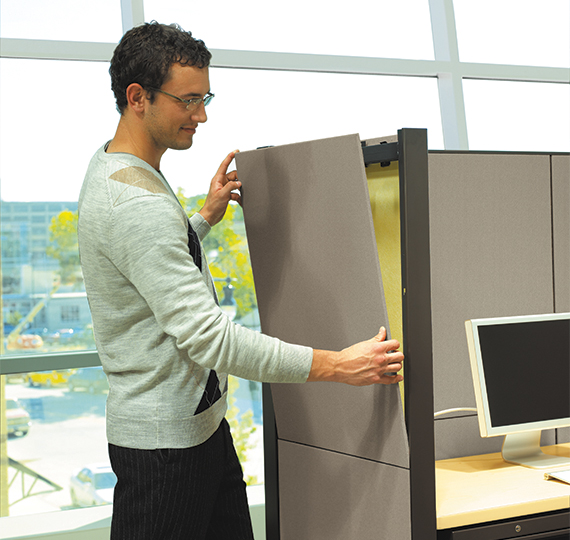 Products We Install
We install a wide selection of product lines to ensure the best possible solution for each office configuration.
Projects
Please click on a picture for more information.
What Our Customers Are Saying
Thank you so much for your help with our project. You guys are fantastic to work with. I'm looking forward to working w/your team in future projects. Thanks again.

Erin W.

Thank you for all you & your team did to help us with our project. We couldn't have done as well as we did w/o you. A job well done.

David P.

Thank you for all your hard work with the project. You have a great team & we are looking forward to working with you on future projects.

Steve L.
Awards
We are proud of the fact that for the past 7 years Office Innovations has received Installnet's gold and platinum awards for Excellence in Service and Installation.
See More
Copyright © 2023 Office Innovations, Inc. All Rights Reserved